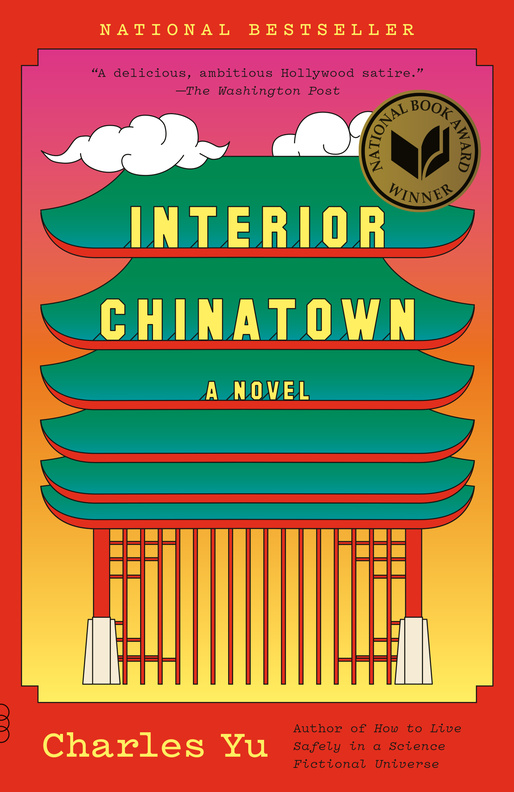 Interior Chinatown
Charles Yu
In this genre-bending book, all the world's a stage, and all the people merely players. Some have named starring roles. Others are limited to nonspeaking background roles such as Ethnic Recurring, Generic Asian Man Number Three, and Delivery Guy. Such are the roles available to our protagonist, Willis Wu, whose highest aspiration is to become Kung Fu Guy in the long-running television series Black and White. By the end of the book, Willis comes to recognize the invisible, historical forces circumscribing his world, and struggles with what it would mean to break free and go off-script—to understand "How to feel, how to be yourself. Not how to perform or act. How to be"—and invites us to do the same.
One of our student reviewers praised Interior Chinatown for its "unique and compelling examination of Asian-American identity and media representation." Another student reviewer described the book as "storytelling like I have never seen or read before." Exploring an American history of immigration, marginalization, assimilation, racism, and mass media, Interior Chinatown asks, "Who gets to be an American? What does an American look like?"
Charles Yu
Charles Yu is the author of four books, including Interior Chinatown (the winner of the 2020 National Book Award for fiction), and the novel How to Live Safely in a Science Fictional Universe (a New York Times Notable Book and a Time magazine best book of the year). He received the National Book Foundation's 5 Under 35 Award and was nominated for two Writers Guild of America Awards for his work on the HBO series, Westworld. He has also written for shows on FX, AMC, and HBO. His fiction and nonfiction have appeared in The New Yorker, The New York Times, The Wall Street Journal, and Wired, among other publications. Together with TaiwaneseAmerican.org, he established the Betty L. Yu and Jin C. Yu Writing Prizes, in honor of his parents.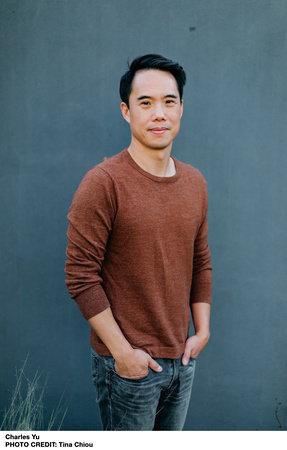 Charles Yu will be in conversation with UC Berkeley faculty member Philip Kan Gotanda, Professor of Theater, Dance, and Performance Studies. Professor Gotanda has been a major influence in the broadening of our definition of theater in America. Through his plays and advocacy, he has been instrumental in bringing stories of Asians in the United States to mainstream American theater, as well as to Europe and Asia. He has specialized in investigating the Japanese American family writing a cycle of works in theater, film, song and opera that chronicle Japanese America from the early 1900s to the present. Professor Gotanda holds a law degree from Hastings College of Law and studied pottery in Japan with the late Hiroshi Seto. Professor Gotanda is a respected independent filmmaker. His film, Life Tastes Good, was an official entry at the 1999 Sundance Film Festival. A CD of Professor Gotanda performing his original songs in a 1980 concert with violinist DH Hwang is now available on Yokohama, Ca. Records. Professor Gotanda's libretto for the opera, Both Eyes Open, with composer Max Duykers, is scheduled to premiere June of 2022 at the Presidio Theater in San Francisco. Professor Gotanda is presently engaged as an inaugural recipient of the Dramatists Guild 2021 Playwrights Legacy Initiative, an award acknowledging Mr. Gotanda's body of work in American Theater.
This event is free and open to the public. If you require an accommodation or information about campus mobility access features in order to fully participate in this event, please contact Aileen Liu at aileen.liu@berkeley.edu with as much advance notice as possible and at least 7-10 days in advance of the event.
Learn more about Philip Kan Gotanda: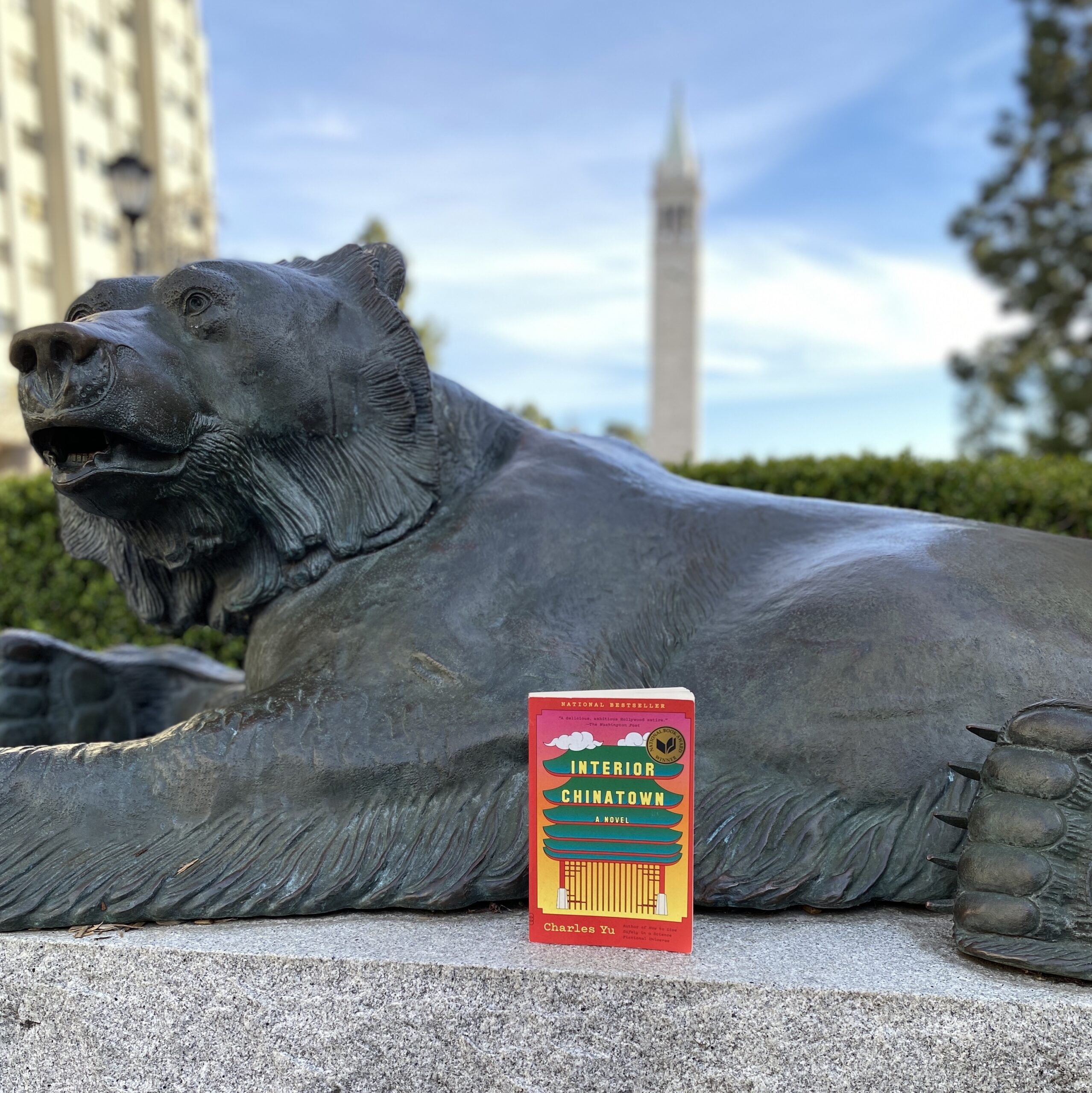 Social Media Contest: Meet Charles Yu 
Want a chance to meet Charles Yu when he's at UC Berkeley on Friday, August 26?
Post a "shelfie" with Interior Chinatown with the hashtag #otsp and tag @uconthesamepage on Instagram or Twitter; or
Contest open to current or incoming UC Berkeley undergraduates only. Post by August 12, 2022.
A Year on Angel Island: Immigration Histories and Futures
In 2022-2023, UC Berkeley will sponsor a series of music and dance performances, exhibitions, public conversations, and courses using Angel Island as a jumping-off point for discussion about race in America, global migration, and architectures of incarceration. We'll use the arts, design, and historical and landscape interpretation to understand current events and envision better futures.
Bloom Asian American Community Program
Bloom, originally the Asian Pacific American Theme House, was established in 1992 and is a residence for students who have an interest in Asian American history, culture, and contemporary issues. Bloom provides a small community experience in a large university. The program offers a dynamic environment for interaction and learning through academic and social activities such as group discussions, cultural events, and community service.
AAPI Community COVID Archival Project
This project is a volunteer-led and guided organization, founded in 2021, with a mission to archive and preserve the voices and stories of the Asian American and Pacific Islander communities during the COVID-19 pandemic for future generations. The archive is housed within the Ethnic Studies Library at the University of California, Berkeley. 
Asian American Research Center
Launched in 2020, the Asian American Research Center at UC Berkeley is a preeminent research center for the study of Asian Americans/Asian diasporas in national, hemispheric, and global contexts. It brings together a vibrant, innovative, and dynamic assemblage of scholars, researchers, policy-makers, community organizers, and cultural producers to address a multiplicity of interests and concerns. The Center work to raise public awareness of Asian American/diaspora issues and advance cutting-edge research, develop innovative curricula, and promote community-campus engagement.
Asian American and Asian Diaspora Studies (AADS) Program
The Asian American and Asian Diaspora Studies Program (AAADS) is dedicated to the interdisciplinary study of historical and contemporary experiences of Americans of Asian ancestry, and the framing of this knowledge and critical understanding within local, national, and global contexts.
C. V. Starr East Asian Library and Chang-Lin Tien Center for East Asian Studies
Bursting with treasures — including manuscripts, thousands of woodblock editions, and an oracle bone bearing some of the oldest written Chinese script — the library is home to one of the largest collections of East Asian materials in North America. The Fong Yun Wah Rare Book Room holds about 40,000 items, including Chinese, Japanese, and Korean manuscripts and imprints; Japanese historical maps; and early Buddhist scriptures. Served by librarians dedicated to opening the library's resources to researchers around the world, EAL acts as a bridge between East and West, connecting California with its neighbors across the Pacific.
Asian American and Pacific Islander Standing Committee (AAPISC)
The work of AAPISC is a comprehensive effort by Asian American and Pacific Islander (AAPI) undergraduate and graduate students, staff, faculty, and alumni to assess and provide recommendations on how to realize for members of our community the stated mission of the UC Berkeley Division of Equity & Inclusion "to create a campus where all Berkeley students, faculty, and staff feel respected, supported, and valued."
Asian Pacific American Systemwide Alliance (APASA)
APASA strives to promote the general welfare of Asian Pacific Islander (API) staff, faculty, and students at the University of California, Berkeley; strengthen the professional and social networking between API staff and faculty, the Berkeley campus community, the University of California systemwide, and the general public; encourage the recruitment, hiring, promotion, and retention of API faculty, staff, and students; review and assess campus issues and their impact on the API campus community; act as an informative and proactive organization to address, develop, and influence policy recommendations that affect the Asian Pacific Islander community on the Berkeley campus; and connect to the (API) community beyond the Berkeley campus.
Access a Copy of This Year's Book
New students (first-year admits and transfers) received an email in June 2022 with a unique redemption link to download a free copy of this year's book. Active Senate faculty received an email in April 2022 with a unique redemption link to download a free copy of this year's book.
International students: need help accessing your copy of this year's book? Refer to this resource: Redemption code instructions for international students
Library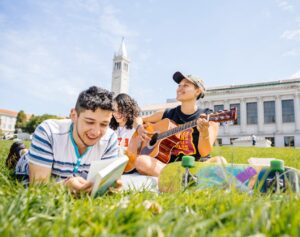 SFMOMA
Center for Asian American Media: Representing Chinatown
March 24–June 30, 2022
Koret Education Center, Floor 2
Co-organized with the Center for Asian American Media (CAAM), Representing Chinatown explores the ways generations of Asian American residents, artists, and filmmakers have recorded the people, places, and community events of San Francisco's Chinatown. New commissions by Macro Waves and Chelsea Ryoko Wong capture the sights, sounds, and textures of this iconic neighborhood as a site of collective resistance and resilience. Additionally, the artist Reagan Louie has curated a selection of photographs and ephemera from CAAM's institutional history and the collections of local activists, including the personal archives of the late filmmaker Loni Ding.
The public can access Representing Chinatown for free in the Koret Education Center on Floor 2.
Asian Art Museum
Thursday Nights: Lenora Lee Dance Presents "Convergent Waves: SF"
Thursday, June 9, 2022, 6 p.m.
From award-winning multimedia dance company Lenora Lee Dance comes its newest site-responsive performance piece, "Convergent Waves: SF." At this world premiere event, you will be guided through a journey set in the Asian Art Museum, where stories of community agency, resilience, and transformation unfold. The dance, to music by Vijay Iyer, Tatsu Aoki, and Francis Wong, is a collective statement for the preservation of community, as neighborhoods across the country face cultural erosion, loss of businesses, and displacement as a result of both the pandemic and ongoing gentrification.
Presidio Theatre 
Both Eyes Open
June 24-26, 2022
a chamber opera
composer Max Duykers
librettist Philip Kan Gotanda
director Melissa Weaver
conductor Benjamin Makino
designers Kwame Braun, Matthew E. Jones, Maria Christoff
featuring
Suchan Kim, baritone
Kalean Ung, soprano
John Duykers, tenor
Joel Davel, marimba lumina
Marja Mutru, piano
Faculty Planning Committee
Faculty with expertise in the themes of this year's selection, from a wide range of disciplines, plan engaging events and activities for students throughout the academic year. In previous years, the faculty planning committee has organized panels, roundtables, film screenings, concerts, faculty dialogues, karaoke nights, contests, and more. If you would like to join our efforts, please email Aileen Liu.
Selection Committee
Kristina Bush, Digital Literacies Librarian
Michael Cohen, American Studies and African American Studies
Lia Fernald, Community Health Sciences
Maggie Hunter, Senior Director of the Centers for Educational Justice and Community Engagement
Jake Kosek, Geography
Fiona McFarlane, English
Aileen Liu, Chair, Director of Curricular Engagement Initiatives
Student Reviewers
Alessi Ayvaz, Helen Berg, Maria Clara Castro, Kaivallya Dasu, Fiona Gu, Melanie Gurrola, Michael Kamenis, Manbhavni Kaur, Zachary Khouri, Evelyn Kong, Vanessa Luna, Lucy Revina, and Merve Ozdemir
Special thanks to Sonya Lee, Belinda White, Corliss Lee, Sine Hwang Jensen, Dave Murray, Hao Tia, Madeleine Denman, and Alix Schwartz.