Interested in diving deeper into the themes of this year's On the Same Page selection The Undocumented Americans? Consider enrolling in one or more of the following courses.
Fall 2021
1 unit, P/NP
CCN: 23752
In-person class meetings:
Tuesday, September 14, 6:30-8:00 PM, in Physics Building 2
Tuesday, November 30, 6:30-8:00 PM, in Physics Building 2
L&S 10 is a course for new students (freshmen or transfers) who would like to engage with the On the Same Page book or theme for their year in a more in-depth way than the average student might. They will take full advantage of the On the Same Page events and programming planned for the fall of each year, and will enjoy opportunities to discuss the book or theme with faculty and fellow students.
On the Same Page is designed to welcome you into the intellectual community at Cal. We believe that interacting with faculty—and with other students—around a topic of mutual interest is one of the best ways to ensure the quality of your education. All of the activities required for L&S 10 will be interactive and educational. Our hope is that your full participation in On the Same Page will be so rewarding that you will continue to seek out enrichment opportunities throughout your undergraduate years at Cal. 
Course Requirements
Read The Undocumented Americans.
Post a substantive response to the book on bCourses. Your response can take any of a number of forms, from a short essay to a video to a song or a Prezi … be creative!
Comment (on bCourses) on at least three other students' responses to the book.
Attend two in-person class meetings. In order to pass the class you must attend both class meetings, so make sure you save those two dates.
Attend at least two qualifying events related to The Undocumented Americans, and submit a short response to each on bCourses. Qualifying events include the virtual keynote on August 20, and any event sponsored or co-sponsored by the On the Same Page program (which includes all events listed on the Events page except the Craftivism 101 workshop). Post your event responses to the appropriate discussion forum.
Comment (on bCourses) on at least three other students' responses to a qualifying event. Post your responses to peers' event responses to the appropriate discussion forum.
ETHSTD 135 Contemporary U.S.: The myth, reality and history of U.S. immigration.
This course discusses issues raised by the recent immigration trends in a comparative, historical approach, using a conceptual framework that interrogates the politics and policy of U.S. immigration charged with preserving white settler colonialism. Acknowledging their agency, this course will also examine how immigrants navigate and confront a hostile climate resulting from what Sami Alim refers to as demographobia, the irrational fear of changing demographics.
Summer Session D (July 6 - Aug 13).
Instructor: Juan G. Berumen, PhD
Asian American Studies 128AC: Islam in America: Communities and Institutions
The course traces Islam's journey in America, beginning with an examination pre-Columbus contacts, then moving toward the first exclusionary acts in the new colonies directed at Muslims of West and North African descent, early arrivals in the 16th century, and a look at narratives and documents relative to African Muslim slaves. Building on this early history, we deal with the emergence of identifiable Muslim communities throughout the US and focus on patterns of migration, the ethnic makeup of such communities, gender dynamics, political identity, and cases of conversion to Islam. We spend considerable time on the African American, Indo-Pakistani, and Arab American Muslim communities, since they constitute the largest groupings. Also, the course examines in depth the emergence of national, regional, and local Muslim institutions, patterns of development pursued by a number of them, and levels of cooperation or antagonism.  The course seeks an examination of gender relations and dynamics across the various Muslim grouping and the internal and external factors that contribute to real and imagined crisis.  The course likewise seeks to conduct and document the growth and expansion of mosques, schools, and community centers in the greater SF Bay Area.  Finally, no class on Islam in America would be complete without a critical examination of the impacts of 9/11 on Muslim communities, the erosion of civil rights, and the on-going war on terrorism.
Instructor: Hatem Bazian
Chicano Studies 50: Introduction to Chicano History
A general overview of the Chicano historical experience in the U.S
Instructor: Pablo Gonzalez
Chicano Studies 159: Mexican Immigration
This course provides an overview of Mexican immigration to the United States. The relationship between immigration and Chicano community formation will be examined. Issues addressed include settlement patterns, socialization, educational aspiration, identity transformation, and historical changes.
Instructor: Pablo Gonzalez
German 130AC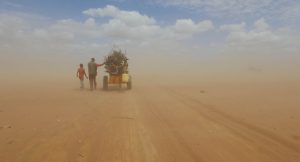 Who is a migrant? Who claims belonging in a country as a native? Can migrants achieve the status of "native" through settlement and assimilation? And if so, why is settlement a condition for full membership and participation in society? Which environmental transformations are associated with migration? Is there any hope for solidarity? Does art hold any promise for imagining a more equitable future?
This course will stimulate students to question assumptions about collective identities based on remembrance and forgetting. We will think comparatively across space and time, considering the role that migration, border control, and structures of racial hierarchy have played in the cultural formation of societies. Focusing on both movement and entrapment, students will examine political rhetoric and policies regulating human mobility through the lens of creative interventions from literature, cinema, video, and music. Case studies from the US and Germany will convey a nuanced understanding of assigned and assumed identities that transcend census categories of diversity. This comparative perspective on race, ethnicity, and citizenship will enable students to recognize patterns and repetitions in common arguments brought forward against the presence of "foreigners."
Instructor: Deniz Gokturk
Middle Eastern Languages and Cultures 158AC: Post-Colonialism, Migration and Diaspora
The course focuses on the impacts of migration and displacement of people from postcolonial Middle East region and the U.S. legal, political, social, and religious discourse on cross-cultural and ethical issues which arise in immigration practice while placing the phenomena within a global and transnational context. The course seeks to draw connections between Middle Eastern migration and diaspora in the colonial and postcolonial periods leading to the modern period of restrictive immigration policies, building of walls in North America, targeting Arab and Muslim immigrants as well as all immigrants from the Global South.
Instructor: Hatem Bazian
Geography 167AC: Border Geographies, Migration and Decolonial Movements of Latin America
This course examines how today's bounded geographies were shaped by racialized and regionalized discourse and practice, setting the foundation for contemporary struggles over political, economic and social identities along and across Latin America. Specifically, the course incorporates the study of the United States' historical relationship with Mexico, Central America, and the Caribbean in order to understand how these histories map onto the productions of borders, regimes of migration and citizenship, and movements that increasingly articulate a decolonial turn in intellectual thought and within political and social action.

Instructor: Diana Negrin
Legal Studies 133AC: The Immigrant Rights Movement
This course will explore the relationship between social movements and the law: it will take as its focus the movement for immigrant rights, increasingly led by undocumented activists. It will ask how legal action -- statutes, regulations, judicial decisions, and policies and practices of enforcement, at both state and federal levels -- has spurred the formation of a social movement, and how that movement has sought to influence, resist, and transform the law.
Instructor: Kathryn R. Abrams
Sociology 144L: Latina/o/x Sociology
The course examines the historical and contemporary experiences of Latinxs in the United States In particular, we will focus on the institutional forces that have shaped the ethnic, panethnic, and racial categories available to various Latino subgroups. To that end, the course is divided into four modules. The first will provide a historical review of the socio-historical patterns of Latin American migration and settlement. The second module will consider how local, state, and national governments have historically racially and legally classified Latin American migrants and their descendents. The third will examine the role that social movements and civic groups have played in advancing Latinx forms of resistance. The final module will consider how contemporary immigration, media, and market institutions shape the Latinx experience and racial inequality in the US more broadly.
Instructor: Cristina Mora
Sociology 280X: Immigration, Incorporation, and Citizenship
This course starts with questions of exit and entry: Why do people migrate across international borders?  How do states control migration, and what are the consequences of law and policy in constituting 'migrants'?  We next consider questions of settlement or incorporation, the process by which foreign "outsiders" become integrated in their new home. How do social scientists theorize, model and evaluate immigrant integration? What factors are most important? Beyond entry and settlement, migration also raises questions of membership, for migrants, and for the societies that receive them.  We end the course by considering how we conceptualize citizenship, membership and belonging in a world of migration.
Instructor: Irene Bloemraad