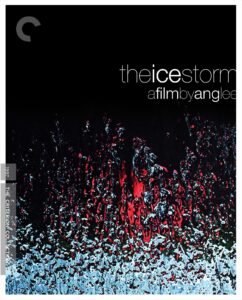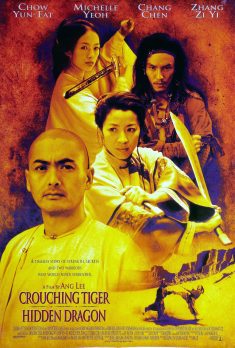 The Ice Storm and Crouching Tiger, Hidden Dragon
Ang Lee and James Schamus
On the Same Page gives new students in the College of Letters & Science something to talk about: a work by a figure who has changed the way we view the world. This year, we're all on the same page viewing The Ice Storm and Crouching Tiger, Hidden Dragon.
We asked Tyler Stovall, Dean of the Undergraduate Division, to explain what compelled the deans to choose Ang Lee and James Schamus as the featured artists for On the Same Page for 2008-09. Here is his response:
"How do artists interpret and ultimately transform our world? This year On The Same Page will feature two leaders of current cinema, Ang Lee and James Schamus. We will discuss two of their most important films, Crouching Tiger, Hidden Dragon and The Ice Storm. Our culture has become increasingly visual, and yet many of us know little about how to "read" films. In studying the work of Ang Lee and James Schamus, we will try to understand the structures and techniques that give films their power to stir us. At its best, cinema challenges the boundaries between entertainment and art, and these two movies provide classic examples of how this is done.
"Ang Lee is an Academy Award-winning director who has made several films in collaboration with producer and screenwriter James Schamus, holder of a PhD in English from Berkeley. Schamus and Lee have explored many central realms of the human experience in their films: love, fantasy, sex, and death. The two films we are highlighting this year, The Ice Storm and Crouching Tiger, Hidden Dragon, deploy two very different genres to explore these timeless themes in two very different settings: suburban Connecticut in the 1970s and ancient China. Bringing both Schamus and Lee to Berkeley enables us to learn more about collaboration in the arts.
"The work of Lee and Schamus also illuminates interactions between different types of creative endeavor. Lee and Schamus have worked on several adaptations of novels to the screen, for example, Sense and Sensibility (Jane Austen), The Ice Storm (Rick Moody), and Brokeback Mountain (Annie Proulx). We hope students will enjoy exploring the question of what is gained and lost when works are "translated" from one medium to another. In addition, much of Schamus and Lee's work has been historical, so that we might also consider what makes a good historical film and how the cinema shapes our very notions of the past."
Ang Lee
Born and raised in Taiwan, Ang Lee moved to the United States in 1978. After receiving a Bachelor of Fine Arts in theater from the University of Illinois, he went on to New York University to complete a Master of Fine Arts Degree in film production.
Mr. Lee's first feature film, Pushing Hands, was viewed internationally and nominated for nine Golden Horse Awards, the Taiwanese equivalent to the Oscar. His next films were the critically acclaimed The Wedding Banquet (1993) and Eat Drink Man Woman (1994). Both films received multiple nominations and awards including Best Foreign Language Film nomination from the Academy Awards and the Golden Globe Awards.
Mr. Lee's other films included Sense and Sensibility (1995), which garnered many awards including Best Screenplay Adaptation from the Academy and Golden Globe Awards for Best Picture and Best Adapted Screenplay, while Ice Storm (1997) went on to become one of the year's best reviewed films.
In 2001, Mr. Lee directed the highly acclaimed Crouching Tiger, Hidden Dragon. He received a Golden Globe Award and a Directors Guild Award for Best Director. The film won four Academy Awards including Best Foreign Language Film.
Recently, Mr. Lee directed Brokeback Mountain (2005) and Lust, Caution (2007). The former received eight nominations at the 78th Academy Awards, more than any other film of that year, where it won Best Director, Best Adapted Screenplay, and Best Original Score. Lust, Caution won Best Picture at the 2007 Venice Film Festival and swept the 2007 Golden Horse Awards by winning seven awards, including Best Feature Film and Best Director.
Mr. Lee is currently working on Taking Woodstock, a film based on Elliot Tiber's autobiography of the same name. The film is scheduled for release in 2009.
James Schamus
James Schamus is chief executive officer (CEO) of Focus Features and Professor in Columbia University's School of the Arts, where he teaches film history and theory. An integral contributor to the American independent film business for over two decades, Schamus has the unique distinction of being an award-winning screenwriter and producer who is also a film executive. He is a Golden Globe Award winner and multiple Academy Award nominee for his screenwriting and songwriting (Crouching Tiger, Hidden Dragon) and producing (Brokeback Mountain); among his other honors, he was awarded the prize for Best Screenplay at the 1997 Cannes International Film Festival for The Ice Storm. He has had a long collaboration as writer and producer with Ang Lee on eleven feature films, including the upcoming Taking Woodstock.
Focus, formed in May 2002, is a motion picture production, financing, and worldwide distribution company committed to bringing moviegoers the most original stories from the world's most innovative filmmakers. The company's Oscar-winning films have included Brokeback Mountain, The Pianist, Lost in Translation, The Motorcycle Diaries, Eternal Sunshine of the Spotless Mind, The Constant Gardener, and Atonement. The company, operating as Focus Features domestically and Focus Features International (FFI) overseas, provides one-stop shopping for filmmakers interested in financing, producing, selling, or distributing films whether geared to local markets or seeking commercial exposure worldwide.
Prior to the formation of Focus, Schamus was co-president of the independent film production company Good Machine, which he co-founded in 1991. Mr. Schamus and his partners at the company produced over 40 films during an 11-year period, in partnership with filmmakers such as Ang Lee, Todd Solondz, and Nicole Holofcener. Good Machine was honored with a 10-year retrospective at the Museum of Modern Art in New York City. Schamus' other honors include being named the 2006 Presidential Fellow in the Humanities at the University of Chicago, and receiving the Writers Guild of America, East's 2003 Richard B. Jablow Award for devoted service to the Guild.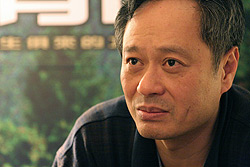 Ang Lee's films to be focus of 'On the Same Page' program
By Monica Friedlander, College of Letters and Science | 20 February 2008
Most of next fall's freshmen are in for a surprise this spring: They'll receive two free DVDs in the mail, courtesy of the College of Letters and Science and its signature program, "On the Same Page."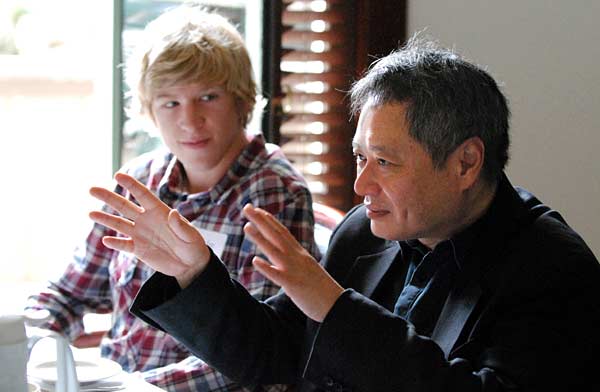 A free lunch, with filmmakers Ang Lee and James Schamus
19 March 2009
BERKELEY — Eight fortunate undergrads dined with director Ang Lee and producer/screenwriter James Schamus (the latter a Berkeley Ph.D. in English) at the Faculty Club on Tuesday. The students, who attended a discussion of Lee's films last fall, won the lunch opportunity in a drawing.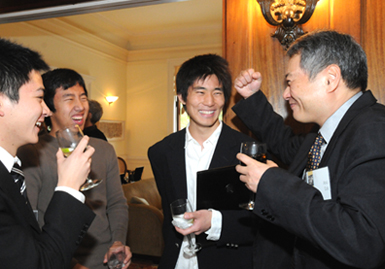 Up Close with Ang Lee and James Schamus
Berkeley students had a rare opportunity this spring to explore the film-making process with celebrated film director Ang Lee and his longtime producing partner and screenwriter James Schamus — the latter a Berkeley Ph.D. in English.
Ang Lee Bibliography
The Media Resources Center at Moffit Library has compiled an extensive bibliography on Ang Lee as part of its collections of East Asian cinema.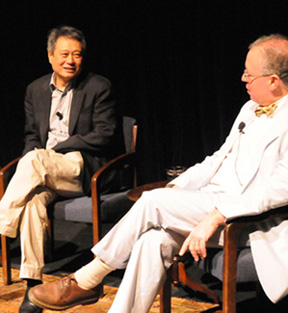 Strictly Speaking: Ang Lee & James Schamus
Mon, Mar 16, 2008, 8 pm
Zellerbach Hall A

A rare opportunity to explore the creative process of modern movie-making. Academy Award-winning director Ang Lee (Brokeback Mountain) and his longtime producing partner and screenwriter, Berkeley alumnus James Schamus, will discuss their fruitful collaboration, focusing on the now-classic Crouching Tiger, Hidden Dragon and The Ice Storm—contemporary masterworks noted for their groundbreaking qualities and their contrasting styles and settings. Crouching Tiger, which won the 2001 Oscar for Best Foreign Language Film, accomplished the astounding feat of selling a Mandarin-language martial-arts romance to mainstream audiences. The Ice Storm, based on Rick Moody's 1994 novel, boldly deconstructs the American family in the wake of the Vietnam war and Watergate. This talk will include a sneak peek at footage from the team's new film Taking Woodstock to be released this summer and starring comic Demetri Martin.
Presented in association with the College of Letters & Sciences' On the Same Page program.
Socially Engaged Art
Tuesday, March 17, 2009
4:00-5:30 p.m.
Maude Fife Room, 315 Wheeler Hall
A roundtable discussion presented in conjunction with On the Same Page.
UC Berkeley panelists:
Playwright Peter Glazer
Poet Robert Hass
Historian Martin Jay
Novelist Darieck Scott
The discussion will be actively moderated by producer and screenwriter James Schamus.
The panelists will address such questions as whether (or how) art can effect social change, the notion of "speaking truth to power," and how best to think through the perhaps contradictory relationship between aesthetics and ethical commitments. Given the enormity of the challenges we face today, how crucial is it that artists and writers play an explicit role through their art in shaping public discussion about those challenges?
27th San Francisco International Asian American Film Festival: Ang Lee and Linda Williams in Conversation
Tuesday, March 17, 2009
7:00 p.m. Lust, Caution
Ang Lee (China/U.S., 2007)
The screening and conversation will take place at Wheeler Auditorium on the UC Berkeley campus.
Linda Williams is a professor in the Departments of Film Studies and Rhetoric at UC Berkeley. She is the author of Hard Core: Power, Pleasure and the Frenzy of the Visible; Playing the Race Card: Melodramas of Black and White, from Uncle Tom to O.J. Simpson; and Screening Sex.
Admission is free for UC Berkeley students. Student advance tickets will be available at the PFA Theater box office and BAM admissions desk beginning on Tuesday, March 10. For others, festival admission prices apply: General admission, $10 until March 11, $11 on or after March 12; BAM/PFA and Center for Asian American Media members, $8; seniors and disabled persons, $9.
This event is offered in conjunction with On the Same Page, a program of UC Berkeley's College of Letters & Science.
Film Viewings
The residence halls are hosting screenings of several of Ang Lee's films in February. Screenings are free and open to all.
Saturday 2/21: Brokeback Mountain. 8pm in Unit 1 APR.
Thursday, 2/26: The Wedding Banquet. 6pm in the Foothill (Unit 4) Dining Commons.
Thursday, 2/26: Brokeback Mountain. 8pm in the Norton Main Lounge (Unit 3).
Friday, 2/27: Crouching Tiger, Hidden Dragon. 6pm in the CKC Dining Commons.
Friday, 2/27: Crouching Tiger, Hidden Dragon. 7pm in the Unit 2 APR.
Mahjong: Contemporary Chinese Art from the Sigg Collection, September 10 – December 2008
Berkeley Art Museum and Pacific Film Archive
The largest and most comprehensive exhibition of Chinese contemporary art ever shown in the U.S. takes over most of the museum in fall 2008. Mahjong features about 120 works by 92 artists that date from the 1970s to the present, all drawn from the collection of the former Swiss ambassador to China Uli Sigg. Comprising exceptional paintings, drawings, sculpture, photographs, video works, and installations, the exhibition begins with important Social Realist works, then illustrates the avant-garde movements of the 1980s and early 1990s, and includes work by a generation of increasingly successful artists who have emerged following China's social and economic reforms of the past decade.
Artscape/Cityscape
In association with "Mahjong," the major exhibition of contemporary Chinese art at the Berkeley Art Museum and Pacific Film Archive, the History of Art Department is organizing a symposium on new art and urban life in a China being rapidly transformed. Event details.
Engage
View the films
All new L&S freshmen and transfers received free DVDs by mail over the summer, after they submitted their statement of intent to register. L&S faculty members received DVDs by mail this spring. DVDs and screenplays are also on reserve at the library. And the residence halls hosted film viewing nights this spring.
Discuss the Films
The College offered Freshman and Sophomore Seminars about the films in Spring 2009 and Fall 2008.
Faculty members led one-time discussions about the films early in the fall semester:
Jon Gjerde (History—films in historical context)
Mark Richards (Earth and Planetary Science—contrasts in style and subject)
Maciej Zworski (Math—personal perspectives on film)
George Chang (Nutritional Science—interactive martial-arts session)
Duncan Williams (Japanese Studies—religious imagery, symbolism in Crouching Tiger)
Janet Broughton (Philosophy—how do we "read" films?)
Tyler Stovall (History—relationship between history and film)
Linda Williams (Film Studies—Brokeback Mountain: desire in the heartland)
Christina Maslach (Psychology—family values)
Some faculty members incorporated the films into one of their regular courses, including a new Discovery Course called L&S 20D Ang Lee, James Schamus and American Film Genres.
Freshman Seminars
The following courses, open only to first-year students, provide small, interactive, credit-bearing contexts in which to discuss the featured films.
Anthropology 24, Section 2: The Imagined Past: Other Times in Film (1 unit, P/NP)
Professor Rosemary Joyce
Gender and Women's Studies 24, Section 1: Gender, Sexuality, and the Family in the Films of Ang Lee (1 unit, P/NP)
Professor Charis Thompson
History 24, Section 3: Chinese Movies for Domestic and American Audiences (1 unit, P/NP)
Professor Michael Nylan
Landscape Architecture 24, Section 1: The River on Film (1 unit, P/NP)
Professor G. Mathias Kondolf
Music 24, Section 1: Film & Music: Ang Lee & Tan Dun (1 unit, P/NP)
Professor Benjamin Brinner
Other Courses
Faculty members in Letters & Science have been encouraged to assign Crouching Tiger, Hidden Dragon or The Ice Storm in their lower-division or upper-division courses. As these courses come to our attention we will list them below.
Lower-division courses
English 84, Section 3: High Culture, Low Culture: Film Genres and the Cinema of Ang Lee (2 units, P/NP)
Professor Julia Bader
Upper-division courses
Gender & Women Studies C146A: Cultural Representations of Sexualities: Queer Literary Culture (4 units)
Professor Juana Maria Rodriguez
Linguistics 106: Metaphor (4 units)
Professor Eve Sweetser