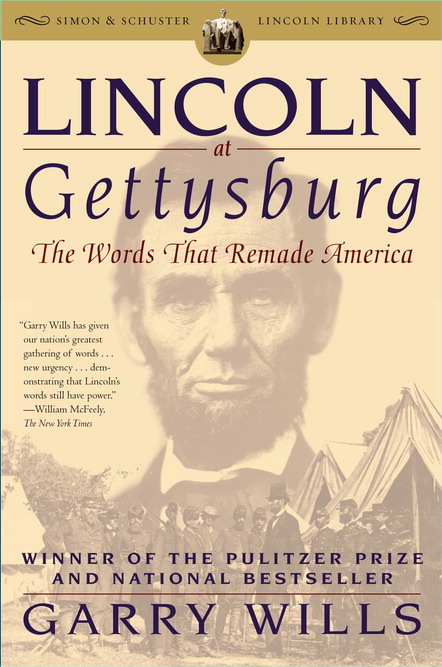 Lincoln at Gettysburg: The Words that Remade America
On the Same Page gives new students in the College of Letters & Science something to talk about: a book by an author who has changed the way we view the world. This year, we'll all be on the same page reading Lincoln at Gettysburg: The Words that Remade America.
We asked Dean Jon Gjerde to explain what compelled the the deans to choose Lincoln at Gettysburg as the featured book for On the Same Page for fall 2007. Here is his response:
"Why was Gettysburg important? In the mid-nineteenth century, the slavery question plagued Americans, but their political leaders had repeatedly failed to come to grips with it. Following the election of Abraham Lincoln in the Fall of 1860, the war of words escalated into a full-scale military conflict, with eleven southern states seceding from the Union the following winter. The Civil War lasted until 1865 and was the bloodiest American war. About 600,000 soldiers were killed in some of the most gruesome battles the world had ever seen. Gettysburg was one of these. In July of 1863, near this small town in southern Pennsylvania, tens of thousands of men died in a three-day long conflict. By its end, the tide of the war was turned and the eventual fate of the Confederacy sealed. Fittingly, it was here that Lincoln delivered his brief Address on November 19, 1863, arguably the most important political speech in American history.
"The Gettysburg Address was ten sentences long and numbered 272 words. How important can two-hundred and seventy words be? In Lincoln at Gettysburg, Professor Wills helps us understand the power of the speech by dissecting its remarkable prose and by placing it in an historical context. He argues that Lincoln's speech, for a number of reasons, was a seminal event in American history. For one thing, it, fundamentally changed the ways in which Americans spoke publicly, and therefore profoundly altered public discourse. More importantly, Professor Wills shows how Lincoln, through his words, defined liberty and equality, which had been invoked by Americans for decades, as the cornerstones of the experiment of the American nation. Because of this, Professor Wills argues, Lincoln's 272 words remade the United States forever, a transformation that continues to influence us today."
Garry Wills
Famed for the depth of his thought and the gracefulness of his writing, Garry Wills has penned more than 30 celebrated and sometimes contentious books on American culture, Catholicism, and politics. His Lincoln at Gettysburg close textual analysis of the Gettysburg Address won both the Pulitzer Prize and the National Book Critics Circle Award. One of today's most prominent cultural historians, he is also a frequent contributor to the nation's foremost newspapers and magazines. In spellbinding language, Wills moves with ease between American politics, ancient history, and medieval philosophy, and "his thinking often takes him, and us, to unexpected and delightful places" (New York Newsday).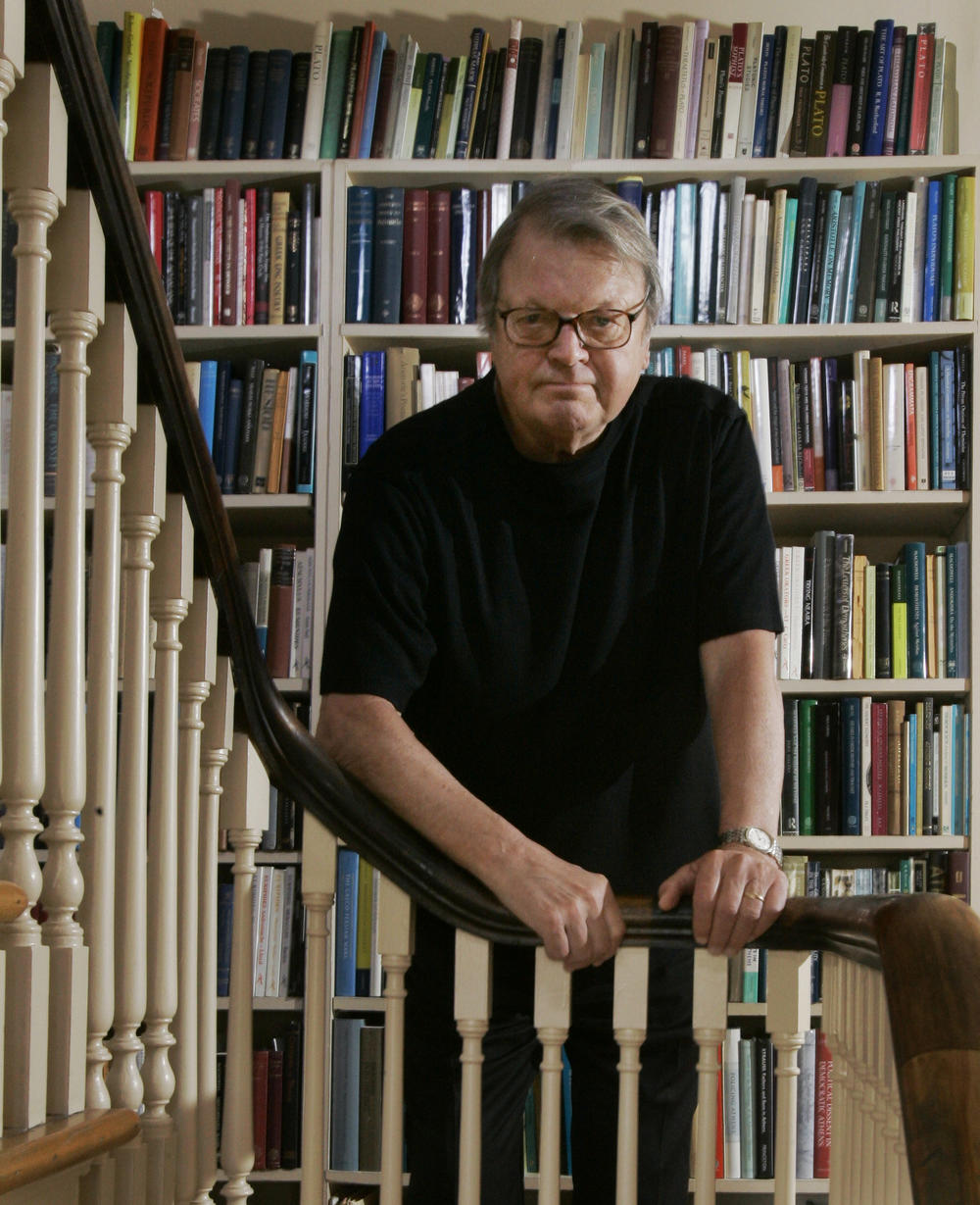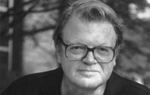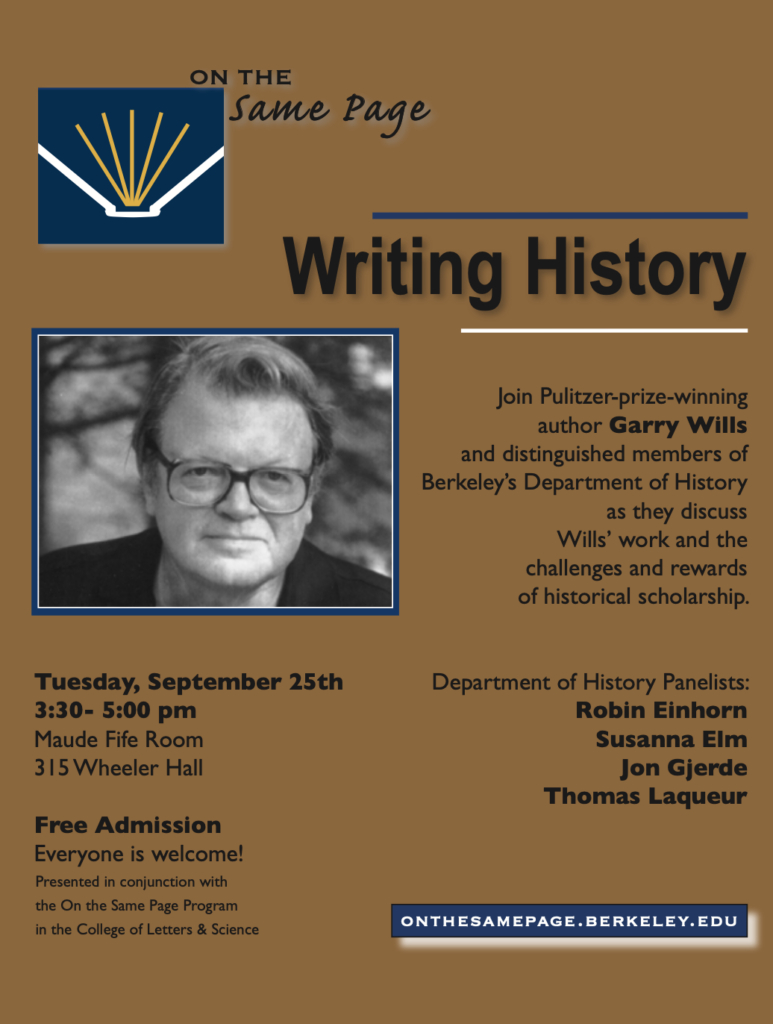 Writing History Panel Discussion
Tuesday, September 25, 2007
3:30-5:00 p.m.
Maude Fife Room, 315 Wheeler Hall
Pulitzer-Prize-winning author Garry Wills and distinguished members of Berkeley's Department of History will discuss Wills' work and the challenges and rewards of historical scholarship.
Panelists:
Garry Wills, author of more than twenty books, including the Pulitzer Prize-winning Lincoln at Gettysburg, Papal Sin, and What Jesus Meant
Robin Einhorn, author of American Taxation, American Slavery and Property Rules: Political Economy in Chicago, 1833-1872, among other works
Susanna Elm, author of Virgins of God: The Making of Asceticism in Late Antiquity and other works
Jon Gjerde, author of The Minds of the West: Ethnocultural Evolution in the Rural Middle West, 1830-1917, among other works
Thomas Laqueur, author of Making Sex: Body and Gender from the Greeks to Freud and other works
Attendance is free and everyone is welcome.
Author Lecture: Strictly Speaking with Garry Wills
Wednesday, September 26, 2007
Zellerbach Hall
Garry Wills will be speaking at Zellerbach Hall on Wednesday, September 26, 2007. For tickets and information, see Cal Performances. Cal students can buy one half-price ticket to any Cal Performances event by showing a Cal Student ID.
Author Reception for New L&S Students
Thursday, September 27, 2007
10:00-11:30 a.m.
The College of Letters & Science is hosting a special reception for new students who want to meet Garry Wills. The reception will take place on Thursday, September 27th, from 10:00-11:30 a.m. Attendance is limited to one hundred students, so register early.
Registration is now open for the reception.
Movie Screenings: The Young Mr. Lincoln and Glory
August 20 and 23, 2007
Pacific Film Archive
Free screenings of The Young Mr. Lincoln (7:00 p.m. Monday, August 20) and Glory (1:00 p.m. Thursday, August 23) will be held at the Pacific Film Archive. Tickets will be released one half hour before each show, first come first served.
The PFA Theater is located across the street from Urban Outfitters (on the campus side of the street), just below the intersection of Bowditch and Bancroft.
Young Mr. Lincoln
Few historical figures are as revered as Abraham Lincoln, and few director-star pairings embody classic American cinema as perfectly as that of John Ford and Henry Fonda. In Young Mr. Lincoln, their first collaboration, Fonda gives one of the finest performances of his career, as the young president-to-be, struggling with an incendiary murder case as a novice lawyer. Compassionate and assured, this is an indelible piece of Americana.–Criterion
Glory
One of the very best films about the Civil War, this instant classic from 1989 is also one of the few films to depict the participation of African American soldiers in Civil War combat. Based in part on the books Lay This Laurel by Lincoln Kirstein and One Gallant Rush by Peter Burchard, the film also draws from the letters of Robert Gould Shaw (played by Matthew Broderick), the 25-year-old son of Boston abolitionists who volunteered to command the all-black 54th Regiment of the Massachusetts Volunteer Infantry. Their training and battle experience leads them to their final assault on Fort Wagner in South Carolina, where their heroic bravery turned bitter defeat into a symbolic victory that brought recognition to black soldiers and turned the tide of the war. With painstaking attention to historical detail and richness of character, the film boasts superior performances by Denzel Washington (who won the Oscar for Best Supporting Actor), Morgan Freeman, Cary Elwes, and Andre Braugher. Directed by Edward Zwick (cocreator of the TV series thirtysomething), this unforgettable drama is as important as Schindler's List in its treatment of a noble yet little-known episode of history. –Jeff Shannon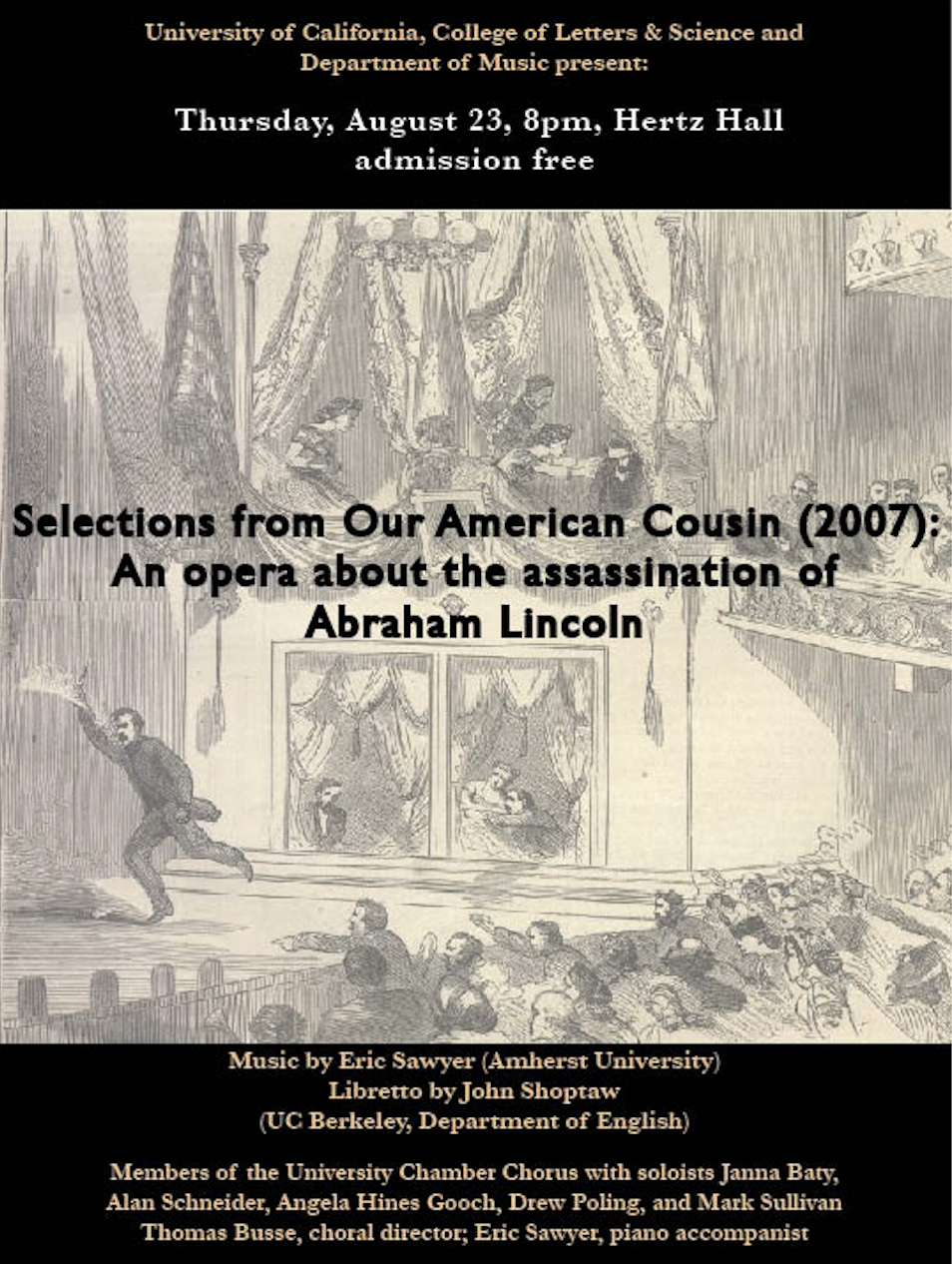 Selections from Our American Cousin
August 23, 2007
8:00 p.m.
Hertz Hall
Enjoy a free concert featuring selections from Our American Cousin, a new opera based on Lincoln's final night at Ford's Theater, playing in Hertz Hall on August 23.
Our American Cousin tells the story of the assassination of President Lincoln from the point of view of the actors presenting the comedy of the same name at Ford's Theater. The opera is the collaborative invention of composer Eric Sawyer and librettist John Shoptaw, whose libretto is freely imagined within the framework of the documented historical event and adapted plot of the original Broadway comedy. Its three acts comprise the backstage events prior to the play, the play itself, and the rupture of the stage drama by the assassination and its immediate aftermath. Lead roles fall to Laura Keene, manager and star actress of the theater company, and Harry Hawk, the American cousin of the play.
The program in Hertz Hall will give a broad overview of the opera, representing portions of the backstage intrigue, the play's comic high jinks, and the chaos and accusations following the assassination. The performance will include a chorus of theater audience – made up of veterans, war widows, freed slaves, nurses, businessmen – as well as the asides and commentary of Abraham and Mary Lincoln as they watch the play, and the maneuverings of the assassin John Wilkes Booth as he prepares to usurp the onstage drama with his own theatrics.
Four stellar young vocalists from the recent Massachusetts concert production of the work will be on hand – Janna Baty, Alan Schneider, Angela Gooch, and Drew Poling – covering eight roles among them. Thomas Busse will lead the chorus of theatergoers, and the scenes will be accompanied on piano by the composer.
This concert is free and open to the public. It will begin at 8:00 p.m. on Thursday, August 23, 2007, in Hertz Hall.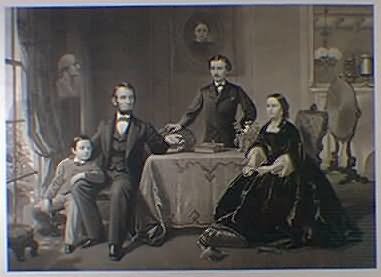 Civil War-Era Prints at Berkeley Art Museum
The Berkeley Art Museum is displaying Civil War-era prints and photographs in conjunction with On the Same Page.
The collection includes a commemorative engraving of Lincoln and his family, never before exhibited at the Museum, as well as photographs of a Union gunboat and Confederate battlements.
The prints are on view on the lower level of the Museum, off the Durant Street lobby. The exhibit will remain up through the end of the fall semester.
Admission to the Berkeley Art Museum is always free for UC Berkeley students, faculty and staff. Gallery hours are 11-5 Wednesday-Sunday, extended to 7 pm Thursdays.
Engage
Read the Book
All new L&S freshmen and transfers received a free copy by mail over the summer. L&S faculty received a postcard that they can redeem for a free copy. All other Cal students, faculty, and staff can get a discount on the book at the ASUC general store.
Discuss the Book
Freshman and Sophomore Seminars about the book will be offered in Fall 2007.
Faculty members led one-time discussions about the book during Welcome Week (August 20-24).
And some faculty members will be incorporating the book into one of their regular fall courses.
Freshman and Sophomore Seminars
UC Berkeley's Freshman and Sophomore Seminars provide an unparalleled opportunity for faculty members and small groups of lower-division students to explore a scholarly topic of mutual interest together, in the spirit of learning for its own sake. By taking a seminar a student becomes an active member of Berkeley's intellectual community. In fall 2007, the program will be featuring several seminars related to Lincoln at Gettysburg:
American Studies 24, Sec. 2: Political Words: From Lincoln to Jon Stewart (1 unit, LG)
Anthropology 24, Sec. 2: The Road to Freedom: Anthropological Perspectives on African-American Life, 1840-1880 (1 unit, P/NP)
English 24, Sec. 4: Garry Wills' Lincoln at Gettysburg (the U.S. and the Civil War Era) (1 unit, P/NP)
History 24, Sec. 3: Abraham Lincoln and the Crises of the Civil War (1 unit, P/NP)
History 24, Sec. 4: War and Religion in America (1 unit, P/NP)
History of Art 24, Sec. 2: An Ex-slave's Use of Photography: Sojourner Truth's Cartes-de-visite (1 unit, P/NP)
In addition, the College of Letters & Science offers sophomore-only seminars and other courses related to Lincoln at Gettysburg.
Discussions
During Welcome Week this fall Campbell Hall was alive with the voices of new students and faculty members getting a head start on the semester. They came together in small groups to discuss Lincoln at Gettysburg, by Garry Wills. The faculty members (listed below) who led these discussions were impressed with the students' level of preparedness and engagement: the students had clearly read the book very carefully and had come to Cal ready to express and support their ideas, and to learn from one another's perspectives. One faculty member commented that it was the most fun he had had in a classroom in years.
The students enjoyed the experience as well, as these representative comments clearly demonstrate:
"It was nice to feel somehow attached to campus before school started. Before my sessions I sort of felt like I was just floating about. Also it was nice to get a feel for the level that other students are on academically and intellectually before being thrown into classes."
"The most valuable part of the session was that it gave incoming students an opportunity to discuss an influential book in a small, informal, and intimate setting with a professor they may have in the fall semester."
"I attended quite a few of the sessions as I found them to be very interesting–especially since they consisted of people who attended voluntarily. I thought that the professors and intimate group size was what made the discussions especially good, and I was able to delve into a deeper understanding after analyzing different contexts with various groups."
"I truly loved the discussion, it was a wonderful introduction to Cal. I felt that our Professor presented the new students the amazing combination of Brilliance with Compassion that Berkeley is known for . . . The professor expressed not only his thoughts beautifully, but summarized our thoughts into coherent arguments, showing us how to not only think and speak critically, but to listen with the same attention to detail. This was my first lesson at Berkeley and one that keeps rolling around in my head. I wish I had more time, as I would have loved to attend as many of these sessions as possible. Great idea to send the book in the mail, I will treasure it as my first Cal Book."
"I thought being able to have the professor talk one on one with us and remember our names was pretty awesome."
Fall 2007 Discussion Session Leaders
Richard Abrams – History
Mary Berry – History
Stephen Best – English
Terri Bimes – Charles and Louise Travers Department of Political Science
Janet Broughton – Philosophy (and L&S Dean of Arts and Humanities)
Marianne Constable – Rhetoric
Robin Einhorn – History
Victoria Frede – History
Kathleen Frydl – History
Jon Gjerde – History (and L&S Dean of Social Sciences)
David Henkin – History
Thomas Laqueur – History
Christina Maslach – Psychology (and Vice Provost of Undergraduate Education and Interim Dean of the Undergraduate Division, L&S)
Daniel Melia – Rhetoric
Geoff Owen – Molecular and Cell Biology and Neuroscience (and L&S Dean of Biological Sciences)
Mark Richards – Earth & Planetary Science (and L&S Executive Dean and L&S Dean of Mathematical and Physical Sciences)
Eric Schickler -Charles and Louise Travers Department of Political Science
Charles Schwartz – Physics
John Shoptaw – English
Fall Courses
Faculty members in Letters & Science have been encouraged to assign Lincoln at Gettysburg or an excerpt from it in their lower-division or upper-division courses. As these courses come to our attention we will list them below.
Lower-division courses
College Writing R1A, section 21: Persuasion: Words vs. Swords, Carolyn Hill, Tuesday and Thursday 2-5:00 p.m., Room L11 Unit Two (6 units).
Upper-division courses
African American Studies 124, sec. 1: Political Philosophy of Martin Luther King, Jr., Professor Charles Henry, Tuesday and Thursday 9:30-11:00 a.m., 103 Moffitt (3 units)
Professor Henry will talk about the Gettysburg Address in this upper-division course.
Political Science 191: The Presidency in American Political Development, Terri Bimes, Monday 2-4:00 p.m., 791 Barrows Hall, contact department for a course control number (4 units, letter grade)
This is a junior seminar open to Political Science majors only. The instructor will be assigning part of Garry Wills' book and framing the class around the question, "Does rhetoric matter?"
Sophomore Seminars
History 84, Sec. 1: Concept and Image: Movies as Historical Documents for the Study of the United Sates, 1920-1945, Professor Samuel Haber, Wednesday 2:00-5:00, 125 Dwinelle Hall (2 units, P/NP)
We will be studying the history of this country over a brief period of twenty-five years. Yet during those years the nation entered into and responded to three drastically different eras – those of prosperity, depression, and war. Movies provide invaluable evidence of what it was like to be alive in these eras. Movies have great advantages and great shortcomings as historical documents. We will examine both. What are the advantages and shortcomings of images and concepts as ways of knowing? Can movies adequately cope with a complex historical event? In what sense can movies tell the truth? In what way do movies help define the values of their audiences and in what way are the movies themselves shaped by existing values of their audiences? These are some of the questions that we will try to answer. In addition to viewing the movies, each student must purchase and study closely a reader providing information and background for the course. At the end of the semester, each student must submit a ten-page typewritten critical summary paper tying the course together in his/her own way. No additional reading is required for this paper, only additional thinking.
Mass Communications 84, Sec 1: The Disappearance of Information, Professor Thomas Leonard, Monday 12-1:00, 247 Evans Hall (1 unit, LG)
This Sophomore Seminar will have a Wills-related discussion in early September. Garry Wills sees a classical revival in the landscape and language of Civil War America, especially in coming to terms with its bloodiest battle. It was not "a democratic muse unacquainted with the library" that inspired Lincoln, he argues. Wills shows that vast research is necessary to understand why the 272 words of the Gettysburg Address were persuasive, in 1863 and to this day. Indeed, he finds that even knowing what those famous words were, exactly, requires enormous scholarship.
Doe Library, with a Greek god at its front door in a war helmet, looking out on a landscape to memorialize war dead (and a Director of the CIA) may appear in a new light after you have read Wills.
The signature Presidential address in our collections is the manuscript John F. Kennedy used on Charter Day in 1962. In Memorial Stadium, Kennedy borrowed words from Lincoln's generation and commended Berkeley's contributions to the Cold War. You can read and hear the speech on the web site of the John F. Kennedy Library (search Berkeley Charter Day). We will meet at the Bancroft Library to examine the text he used.