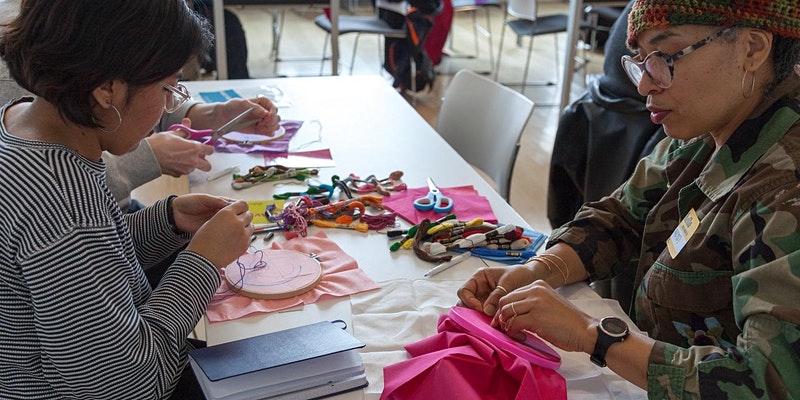 On the Same Page Presents: Craftivism 101 Workshop with Shannon Downey aka Badass Cross Stitch
Thursday, September 23, 2021, 4:00 PM – 6:00 PM Pacific Time
240 Bechtel Engineering Center
Open to UC Berkeley undergraduates only. Pre-registration required.
Get acquainted with craftivism, learn to embroider, stitch something brilliant, and make friends—all in just 2 hours!
Restricted to 25 participants. Pre-register here (password: Stitch): https://www.eventbrite.com/e/craftivism-101-workshop-with-shannon-downey-aka-badass-cross-stitch-tickets-168473305191
About this Event
Craft-based activism has been used as a tool of resistance, coalition building, and even espionage! Learn from Shannon Downey aka Badass Cross Stitch —a leader in the modern craftivism movement.
She will provide an introduction to the history of craftivism and ways you can get involved in the modern movement. Shannon will then teach you how to embroider and use the shared reading, The Undocumented Americans, by Karla Cornejo Villavicencio as a catalyst for our making and dialogue. It will be a unique and fun way to connect with other students and stab it out!
Materials will be provided
Workshop will take place in person with Shannon Zooming in.
About Shannon Downey
Shannon Downey better known as Badass Cross Stitch, is a community organizer disguised as a fiber artist and craftivist. She blends her politics, activism, and art into projects that are designed to inspire others to take action, think, discuss, engage with democracy and their community, and find some digital/analog balance. She is the instigator behind #RitasQuilt #MakeDontBreak and @BadassHerstory
She is on a quest to teach 1 million people to embroider and invite society to rethink how we categorize, and value craft and art. Shannon sold everything she owned and moved into an RV this past June to bring art, activism, and community to the country that she still believes in.
She teaches at Columbia College, DePaul University, Salem College and is founder of Seriously Badass Women.
Learn more: www.BadassCrossStitch.com